Total Raised: $133,100*
Great weather, but a little on the hot side at this year's 19th Annual It Only Takes A Spark Cancer Walk. Much appreciation and thanks goes out to all our teams and volunteers for this year's walk. Without them and the great people in the greater Grant County area, we couldn't raise such funds. A HUGE Thank You again to all of you! Nearly 2600 luminaries were sold in honor or memory of resulting in over 1100 names to be read at the walk.
Because of the hot weather, attendance was down. Though a great crowd was still present to enjoy the picnic arranged by Jim Trevett of Trevett's Cafe, and his countless volunteers, with the Kiwanis club serving.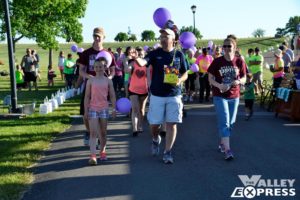 A beautiful rendition of the national anthem was sang by Amberly Warren. The lap of life was led off by Wayde Fraasch as our honorary chair along with many cancer survivors. Our two new teams with the walk this year were the C-Team and Poet Biorefining. The C-Team, led up by Kim Bjerke sold well over 6000 cupcakes to raise funds for this year's efforts. That is a lot of baking and decorating. This also awarded them the Year Round and the top Non-Corporate fundraising team awards. Poet Biorefining showcased an ethanol fueled Nascar car and it was checked out by many.
The teams continue to get more creative each year and choosing the team for creative campsite was challenging. The creative campsite was awarded to the Frozen themed team held by Great Western Bank. The pictures you could take with Frozen characters was a big hit and if your child dressed up, you got a special treat. They also did very well in fundraising this year to come out as the top corporate fundraising team.
The inflatables were a huge hit again this year along with the balloon launcher. Many people also stuck around to attend the live auction which included a variety of baskets, hand crafted items, and plants assembled by teams or donated to the walk. All of which raised over $6000 to the walk.  A fantastic display of fireworks also was enjoyed which was donated by Poppers Fireworks, Betty's Fireworks and Roger McCulloch. Zumba and the team competitions helped keep the teams active through the night and the Bulldog team won the most points over all to award them a pizza party donated by Pizza Hut.
A big shout-out goes to the Merchants Fighting Cancer, led up by Twin Valley Tire, for assembling a great list of items to raffle off. They raised another $15,000 for the cancer walk. Over the past 7 years, they've raised $75,000 for It Only Takes A Spark. Also another shout out goes to the Marching Medics for their phenomenal luminary sales. They sold almost 600.
Some fun was also had with "Give Cancer the Boot". Purple boots, donated by Runnings, were decorated by the teams and displayed at various locations around Milbank to collect the loose change from the community. This idea came up just a few weeks before the walk. It raised a community challenge to root for their favorite team. Great Western Bank raised the most funds and were presented a travelling award. We plan to have the boots to show up at events and businesses throughout the year.
There will be two spots opening up on the core committee this year. Angie Johnson will be leaving after 4 years of service. Matt Scott is also leaving after 3 years. Both were presented plaques by Amanda Cummins and thanked for their service to It Only Takes A Spark.
We challenge anyone interested in helping out in any creative way or becoming a team to contact us to continue the fight against cancer and helping those affected by cancer in our community. If interested about the core committee, you are asked to get in contact with one of the current members or email us at [email protected].
All it takes is a little spark to make a difference and we certainly have a LOT OF SPARK in this community. Thank you again to all our sponsors, teams, volunteers and the community for another successful year!
Photos
Check out our photo gallery here from Tracie Grant Photography.
Can also visit pictures from the Valley Express here.
* The amount includes some various estimates from additional parties, but is believed to be a good representation of funds raised this year. It was another absolutely AMAZING year!!!
Walk Information
Team Awards
Team Spirit – The Pit Crew (St Williams/Whetstone Insurance)
Fundraising Year Round – C-Team (Kim's Creations)
Creative Campsite – Frozen (Great Western Bank)
Corporate Fundraising Team – Frozen (Great Western Bank)
Non-Corporate Fundraising Team – C-Team (Kim's Creations)
We have many people to thank!
MC: Duane Tillman
Picnic: Trevett's Cafe and Family, Hartman's Family Foods, Ol' Mill Meats, Waldner Meats, Milbank Kiwanis Club, Valley Queen, & Beren's Warehouse Groceries
National Anthem: Amberley Warren
Color Guard: 740th Transportation Company
Honorary Chair: Wayde Fraasch
We Thank Our Teams
Sponsors of It Only Takes A Spark Cancer Walk
Torchbearer

Avera Medical Group Milbank
Grant County Review
Linda's Fashions
Popper's/Betty's Fireworks/Roger & Irene McCulloch
Poet Biorefining
Thrivent Financial
Twin Valley Tire
Valley Office Products
Illuminator
NorthWestern Energy
Milbank Eye Care
Bien Pharmacy
Dakota Granite
First Bank and Trust
Food & Fuel
Lewis
Montage
Northside Medical Center
Stengel Oils
Valley Dairy Supply
Valley Rental & Recycling
Wells Fargo
Whetstone Storage
Heartwarmer
Bierschbach Dental
Bobbi Bohlen
Cold Spring Granite
Conroy Eye Care
Flower Shoppe
Gesswein Motors
Great Western Bank
Hicks Construction
Insurance Solutions Plus
Jamey Jurgens
Johnson Dental
Midwest Powersports Inc.
Mundwiler Funeral Home
Otter Tail Power Co.
Schuneman Equipment
State Auto
State Farm
Victory Farms
Wilbur Ellis
Window World
Trailblazer
Shopko
Chiropractic In Motion
Angerhofer Plumbing & Heating
Healthfirst Chiropractic
Hunt Chiropractic
ITC
Milbank House Movers
Trapp Plumbing Co.
Whetstone Valley Electric
Brewster Building Center
Boos Law Office
T&T Heating & A/C
Merchant Ticket Winners
1. $1000 Cash – Joy Gengler
2. Henry Golden Boy Rifle – Ruth Gleason
3. Dewalt Tools – Julie Gertsema
4. Ultimate Linings Bed Liner – Lynn Wientjes
5. $500 Cash – Denise Scoblic
6. Laptop – Kim McCrea
7. Milbank Ford – Don Strege
8. Hardee's – Judy Pies
9. Hardee's – Doug Peiker
10. Unzen's – Janae Tostenson
11. Brewster's – Tammy Mach
12. Twin Valley Tire – Lisa Torness
13. Twin Valley Tire – Joyce Hermans
14. Midtown Wine – Kathy Mathiason
15. Midtown Beer – Harold Veen
16. Valley Liquor Wine – Blake Schmieg
17. Valley Liquor – Kevin Leininger
18. Hartman's – Boyd Sussex
19. Hartman's – Ron Bjerke
20. S&D One Stop – Trudi Niedert
21. S&D One Stop – Valois Olson
22. Food & Fuel – Merna Howard
23. Food & Fuel – Brenda Bohn
24. Food & Fuel – Sheldon Korth
25. Food & Fuel – Kenny Morris
26. Waldner's – Bryan Lambrechts
27. Waldner's – Jane Streich
28. Waldner's – Michael Dady
29. Ol' Mill Meats – Julie Landmark
30. Ol' Mill Meats – Tammy Mach
31. Ol' Mill Meats – Dick Schmeichel
32. Big Stone Legion – Tammy Snell
33. Big Stone Legion – Dan Chaloupka
34. Gunslingers – Julie Jarman
35. Gunslingers – Janet Smith
36. S&D Car Wash – Cheryl VanLith
37. S&D Car Wash – Laurel Crosser
Pit Crew Cancer Walk Team – Sponsored by St. William's and Whetstone Insurance
Raffle Winners:
1. T-Shirt Quilt – Stephanie Schumacher
2. Leopard Fleece Throw – Ruth Gleason
3. Wine Basket – Diane Cummins
4. Afghan – Wally Hamman
5. Scentsy Nightlight Warmer – Brenda Maass
6. 31 Sling Back Bag – Clayton Tucholke
7. Norwex Basket – Angie Johnson
8. 31 Camouflage Thermal Bag – Gary Krause
9. $30 Shady Beach Gift Certificate – Kenny Schumacher
10. 30-minute Massage Tranquil Touch – DiAnn Muellenbach
11. Dale Earnhardt Package – Laura Foss
Kids Raffle:
1. Rylee Scouler – Truck
2. Jonathan Chapman – Truck
3. Chase Dusing – Race Track
Much Thanks To These Individuals & Businesses!
740th National Guard Color Guard
Alex Popowski
Adam Thomas
All Survivors
All Teams
Amanda Tuchscherer
Amberly Warren
Amy VanLith
Angela Hoeke
Barb Heller
Berkner's Excavating
Bermet Artykbaeva
Bulldog Golf Carts
Casey's General Store
Cheryl VanLith
Colton Christmann
Dakota Portable Toilets
Dakota Valley Trucking
Dale & Brianna Hermans
Dan Severson
Dewey's Lawn Care & Landscaping
Don Quade
Duane Tillman
Diane Brandenburger
Farrell Auction, Paul and Jim Farrell
First Bank & Trust
Food-N-Fuel
GCC Ready Mix
Granite View Farms
Grant County Review
Grant County Senior Citizens
Grant-Roberts Ambulance Service
Hardee's
Janelle Madsen
Jenny Luepke
Jenny Seehafer
Jeremy DeVaal
Jerry Neuharth
Jimmie Berkner
Lori & Joel O'Brian
Pattie Berkner
Kiwanis Members
KMSD
Lance Anderson
Landon Anderson
Laurinda Pribyl
Leonard Stengel
Lewis Drug
Linda Anderson
Mary Rethke
Melissa Mueller
Merchants Fighting Cancer
Midwest Powersports
Milbank City Crew
Milbank Fire Department
Milbank Lumber
Saputo
Mill Valley Industries
Omega Lettering
Pat Waletich
Peace Corps of
American Lutheran Church
Pete and Leah Bisgard
Pizza Hut
Rebecca Wieting
Ron Beling
Ron's Equipment & Painting
Runnings
S&D One Stop
Saputo Cheese
Street Graphex
Subway
Taylor and Kenzey Anderson
Team Boom – Boyd VanVooren
Team Sam
Teri Spors
Tom Mueller
Tracie Grant
Valley Express
Valley Peace Makers Quilt Club
Valley Queen Cheese
Val's Coffee Shop
Wittrock & Sons