Stengel Oils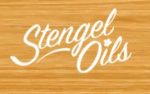 Description:
Hi! We're Cal and Rhonda Stengel.
After several years of living on the West Coast, we longed to return home to our native South Dakota and started Stengel Oils in the spring of 2005. Both of our boys, Nathan and Alex, are involved with the family business, helping with operations, working the evening shifts and maintaining the presses. We use a cold process to press the flax seed which is considered the freshest way to produce flax oil.
As popularity of flax oil, with all of its healthy Omega-3 benefits, has grown so has our product line. Today we're pleased to not only offer Cal's Flax Oil, but also a line of salad dressings, Cal's Healthy Gourmet, that truly as nutritious as they are delicious. And don't forget about your furry friends. Dogs, cats and horses can benefit from a healthy boost from flax oil as well with Sammy's Shiny Coat.
As a local, family-owned company we believe in every product we produce and sell. In fact, we are so confident in our products that we will take back any unused portion for any reason. We look forward to doing business with you and having the opportunity to prove to you why Stengel Oils produces the best flax oil products available.