Valley Office Products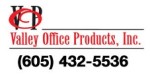 Description:
Valley Office Products, Inc. was incorporated in 1980 when Larry and Loretta Cantine first purchased Valley Office Supply.  In 1985 Valley Office Products, Inc. became an Authorized Xerox Sales Agent.
VOP currently serves 16 counties in South Dakota and western Minnesota.  In addition to the Xerox B & W and color copiers, printers and fax equipment, VOP carries a complete line of office supplies including office furniture, machines, and paper products.  VOP also provides UPS shipping, laminating, stamps, business cards, as well as business form printing, trophies and advertising products.