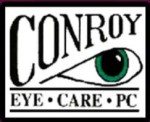 Description
Conroy Eye Care PC provides a wide range of professional eye care services in Wheaton, MN and in
Milbank, SD.  We are committed to quality eye care and the finest eyewear for the entire family.  We offer
a full selection of contact lenses, occupational and recreational eyewear, comprehensive eye examinations, prescriptions, visual skills, and complete retinal and glaucoma evaluation.